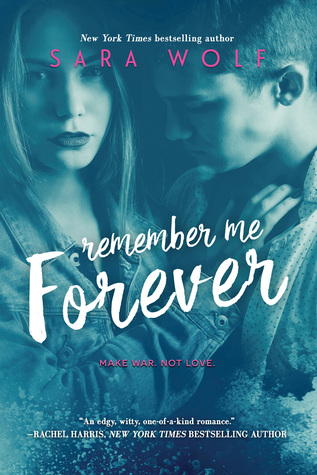 4.5 Stars!
Thank you to Chapter by Chapter, Sara Wolf, and Entangled Teen for the ARC through NetGalley and the opportunity to participate in the blog tour!
"You try to stop all these injustices and save people from them. But you never try to save yourself."
Wow, I can't believe it's really over. This trilogy snagged me from the get go; I loved the originality and the character's crazy antics that were often ridiculous beyond belief, but endearing all the same. It's not often you can find a book that will make you laugh out loud with one line and absolutely rip your heart to shreds with the next, but this can. I'm so grateful to have been able to follow Isis and Jack on their funny, action packed, and heart-shattering adventure.
Isis Blake hasn't been the same since Sophia's suicide. She blames her self, just like she always does. Still, she does her best to put on a brave face and avoid thinking about Jack Hunter, who disappeared after the funeral and hasn't been seen since. Instead of going to Stanford, she decides to stay close to her mother by attending good old Ohio State, but she can't seem to catch a break. Her ex-boyfriend, rapist, and overall embodiment of her own personal hell, Will Cavanaugh, has left Florida for Ohio and is intent of continuing his torture of Isis.
Meanwhile, a previously guilty and self-destructive Jack Hunter has been recruited by Vortex. The private company has sent him undercover as a college student to help bring down a malicious hacker wanted by the government. His target: Will Cavanaugh. Isis and Jack had never expected to see each other again, but they're thrown together anyway and their feelings are more intense than ever. They'll have to work together to bring down the demons that haunt them, both the physical ones and those harder to reach that inhabit their very memories. Even if they succeed, do they have a chance together or is there simply too much between them?
I really felt that this was a perfect ending to Isis and Jack's story. Other than the last few chapters feeling a little rushed, I have absolutely no complaints other than that I wish it could have went on forever. I know that this series will stay with me for a long time. Isis, Jack, and all their friends have a way of getting under your skin in a way that practically screams, "You'll
Remember Me Forever
."